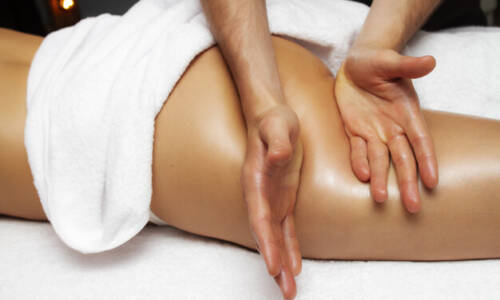 At Home Anti-Cellulite  Massage Therapy in London
The anti-cellulite massage is designed specifically to target cellulite and help with the reduction and elimination of cellulite on the affected areas. The therapist need special qualifications and certifications to perform the massage appropriately, otherwise the treatment can be inefficient with no positive results.
Very important: the cellulite can be a serious problem, therefore the source of this cellulite must be identified to stop your organism creating this, it is advised to seek medical assistance to identify it, and then to eliminate the excess of cells from your body with anti-cellulite procedures
*What to expect from a Mobile Anti-cellulite Massage at home

Our Massage therapists will take the time to find out exactly which areas of your body are more affected and adapt their technique according to. Of course you can tell them which areas you'd like them to focus on.
They might use oils, warming creams, etc. to offer you the best treatment with fast results.
This type of massage can be vigorous, but you should always let the therapist to know how you're feeling during the treatment.
*Don't choose this type of massage if
– You're pregnant, you can choose our pregnancy massage.
– If you've had recent surgery, chemotherapy, radiation, or have another medical condition, it's wise to check with your doctor before starting massage therapy.
– You're looking for something relaxing, then definitely we advise you to try Relaxing Massage or other services.
Book at home Anti-cellulite Massage
For your convenience, you can book a mobile Anti-cellulite Massage using our secure online booking tool — or the CHAT to get in touch with us.
Therapy
Popular Treatments
Therapy
Health Benefits
testimonials
What Our Customers Say
I have had a lot of massages in my life and Constantin is on another level - he is simply an amazingly talented and caring masseuse. 10 out of 10 every time. If you are thinking about booking Constantin then don't hesitate - you won't regret it.
Excellent, professional deep tissue massage from Alexandr. He's friendly, professional & very knowledgeable. Highly recommended. Also, the booking process is straightforward, with good clear communication from the office. This is a great company!
I have been looking for someone that could deliver an amazing massage and I found. Absolutely fantastic, knowing exactly what I need. Thanks for making my day with your 90 minutes of total relaxation! I am feeling great!